How do we collect the cash gifts?
To redeem funds: In Gift Tracker click the "Redeem Funds" button and follow the instructions to get your cash gifts. Each payout request is reviewed and completed in up-to 3 business days.

Bank transfers are completely free after your registry event date. The registry event date is listed on your registry, and may be viewed in your Event Settings.

There is only a fee for the PayPal transfer: 2.5% for each transfer.
All cash gifts are available 72 hours after they've been purchased for you. You may redeem a cash gift through a bank transfer and PayPal.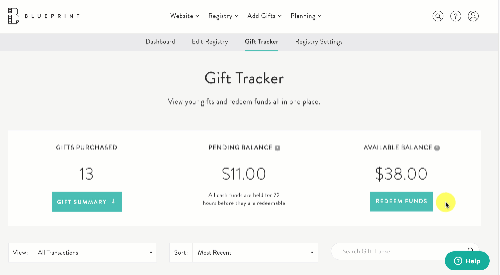 If you live outside of the U.S.A.: Please note that our services are best established for U.S. based accounts. We are only able to send funds to you via PayPal, and an additional fee will be incurred for currency exchange. Additional fees may vary.